This is a parish on the north coast of Cornwall. When the coastal area of Bude was separated from the original parish of Bude-Stratton in 1836, the remainder to the east of Bude became the parish of Stratton. Origin of name is Cornish, meaning 'valley of the River Neet'. The English 'ton' has been added later. The village of Stratton lies a mile to the east of Bude.
Population
Created in 1836 from part of Stratton parish - 4294 acres of land
In 1931 - 4249 inhabitants
Here are the modern socio-economic stats for Bude-Stratton and East-of-Bude Stratton
Maps

Stratton is just by Bude.
1. The whole of Cornwall
2. Here is a wonderful map to get you to Stratton - you can change the scale as well as get the local weather and cinema listings!
The Uglow connections with Stratton start in the late 17th century - the first IGI birth is in 1693.
However prior to this, there are these interesting "farthings"
The left has "William Uglow" and the right has "Stratton" and the initials "WV" in the centre. It is in the British Museum.
(From Mac McCarthy: This token is one of a series of privately issued tokens (well over 20,000 different issuers throughout the UK & Ireland). They arose due to a shortage of small change due to the Crown refusing to debase the coinage. As the price of silver increased, so the coins got smaller, pennies being cut into 4 as farthings were so small, people were losing them. Small change was in great demand, so local traders, some corporations and some gentry decided to have their own token coinage made. These were made mostly from a farthings worth of copper or brass, though some were halfpennies and a few were pennies. They were circulated locally, and it is believed would be accepted by most local shops & trades. Most had the town, initials and or name of the issuer, and often either a coat of Arms of Family or trade guild, or a representation of their wares etc. I.e. a shuttle, or a sheep fold or frying pan.
There's some more at http://www.britishfarthings.com/Tokens/17th-Century/Cornwall/Cornwall.html
Who was this WIlliam? Probably the William who died in Stratton on Christmas Eve 1685 (Cornwall OPC) - his wife, Ann, died in 1670 (there's a will in the Cornish Record Office). There's no record of Stratton births so perhaps William was born in Marhamchurch - there are plenty to choose from!).
Family 1a: Benjamin and Mary Perry, Ann Buckinham and Margaret Luggar
There are many families from whom Benjamin 1665 may be descended - we know his date of birth from the Cornwall FHS data that a Benjamin dies in 1760 in Stratton aged 95. But his provenance remains a problem - there is no IGI record for his birth and we have no information on his mother or father.

Speculating, I'd suggest that he is the brother of Gerence 1653, also living in Stratton and therefore that Benamin is the youngest son of Thomas and Jane Payne?
Benjamin marries Mary Perry on 22nd September 1692 in Stratton. Mary probably came from Heal Mill. She dies in May 1696 and the OPC record identifies her as the wife of Benjamin. After her death, in 1698 in St Martin, Exeter, Benjamin marries again to Ann Buckinham from Crediton. Ann dies in June 1707 in Stratton, perhaps after the birth of son, John, and again the OPC record identifies her as the wife of Benjamin. Benjamin marries yet again in October 1707, this time to Margaret Luggar. Rather quick but there are all these young children to look after and perhaps Margaret, locally brought up and recently widowed, is the ideal candidate. This marriage lasts until Margaret's death in 1738 (Her will is described below)
In his latter years, Benjamin seems prosperous. He is described as a mercer in Margaret's will in 1738. A mercer was a trader who dealt in cloth, typically fine cloth that was not produced locally. However inventories of mercers in small towns suggest that many were shopkeepers who dealt in various other dry commodities, not only cloth.
In 1752, he provides a generous dowry for his granddaughter, Jane, on her marriage to Charles Orchard and in 1757 there is an Exchequer record which appears to concern the leasing from the Crown of the 'manor of Stratton Sanctuary.' Benjamin himself dies in 1760.
We have a clear group of 7 births, all in Stratton. The parish records have Benjamin as the father (but no mother is named) of the following:
daughter Ann 1693 born in Stratton - she marries John Call, son of Stephen, in Stratton in 1716. There is good evidence for this - little John is born in Stratton in 1717 with mother Ann. In addition John Call's will is written in 1716 and proved in 1717 and talks of father-in-law, Benjamin, a pregnant wife, Ann and brothers-in-law, Benjamin and John. The will is witnessed by Margaret Uglow - this is Margaret Luggar, his mother in law, who has married Benjamin in 1707 in Stratton. Further, Ann's son, John Call, dies by 1755 but his children, Ann and John Call are mentioned in Benjamin's will. If John Call does die early, Ann may well marry John Uglow in 1726 - Family 1b. Benjamin's will talks of his grandson, John Uglow of Heale.
daughter Grace 1695 born in Stratton - there are no records that suggest possible marriages. Perhaps she died young...
son Benjamin 1700 born in Stratton - he marries Anne Wilmet and raises family in Poughill - Family 1a
daughter Mary 1702 born in Stratton and dies in 1702.
daughter Mary 1703 born in Stratton - she marries Benjamin Tuke 1707 who is the son of Joan 1689 and James Tuke. The wedding is in in Stratton in 1727 and young Benjamin Uglow Tuke is born there in 1729. Grandfather Benjamin's will talks of his Tuke grandchildren.
son William 1704 born in Stratton - possibly marries Hannah Heale in Stratton in 1739. However, while William is mentioned as living in 1755 in his father's will, there is no mention of wife or children.
son John 1706 born in Stratton. He marries Jane Netherton and works as a tanner - Family 7

In 1739 there is the will of Margaret Uglow, wife of Benjamin, transcribed by Charlou Dolan:
This is clearly the will of Margaret Luggar who marries Benjamin in 1707 after the death of his second wife, Ann. Margaret was born Margaret Call in Stratton - there were several Call families there in that period. She married Nicholas Luggar in 1684 in Stratton. Nicholas had been married previously to Elizabeth Prowse with a daughter, Elizabeth. Margaret and Nicholas had a son, William, born in Launceston in 1687.
In her will, Margaret mentions her daughter in law, Elizabeth Petherick. This may well be her step-daughter, Elizabeth, who married Richard Petherick in 1696. She also mentions her daughter in law, Honor. This may well be another step-daughter or the wife of son, William. A small problem is that in her will she says of Wiliam, '...if he shall happen to die unmarried..'. Does that simply mean if Honor predeceases him or that there was another son, now dead, whom Honor married?
Her will mentions six grandchildren, all Luggars in James, Margaret (married to Tripe), Susannah, Elizabeth, Dorothy and Ann. Are these all William's children? She mentions two great grandchildren, both Luggars, James and Elizabeth Heydon (Hoyton?)
The will mentions son in law Benjamin Tuke and kinsman Richard Barden who are the executoirs and trustees, holding the residue of the property in trust for son, William. If he should die unmarried, the residue goes to the grandchildren. Why this is necessary rather than making an outright bequest to William is not clear. It does suggest that daughter in law, Honor, may well have been married to another of Margaret's sons, now dead?
The Uglow connection comes with bequests to grandsons, John Call and John Uglow - the children of Ann above. Ann would have been nearly 20 when Margaret marries Benjamin which suggests a clsoe relationship. It is likely that Margaret (nee Call) was an aunt or cousin to Ann's husband.
Family 1b: John and Ann Call
John 1693 is the son of Gerence and Margaret Hale. He marries Ann Call, in 1726 - she may well be Ann Uglow, widow of John Call - Family 1a.
If this is the case, it is likely that this John rather than John 1706 who marries Ann in Stratton, firstly because Gerence is a witness (and brother? John is another) and secondly as John 1706 would be Ann's half-brother!
We have a John dying in Stratton in 1765- John 1693 is a good candidate.
Family 1c: John and Mary Symons
John 1727, born in Stratton, is the son of John and Ann Call and the grandson of Benjamin and Mary Perry. A yeoman, John was left 5s. in grandfather's (Gerence 1653) will in 1743

This is probably Mary Symons who married a John in 1755 in Launcells. There is a marriage settlement dated 1764/10/22, for the marriage of John Uglow of Stratton and Mary Symons of Launcells Heale by which a lease of one year is made by John Uglow to John Symons of Launcells, yeoman. This is of a dwelling house called Bridge Hay.
There are at least 6 candidates (by birthdate) for Mary's husband but the clinching evidence here is grandfather Benjamin's will which talks of grandson John Uglow of Heale, land in the parish of Launcells. The marriage settlement ties John to Mary and the will ties John to Benjamin's family.
John dies in 1791 - his will mentions his Symons relatives but no Uglows.
son John 1756 - too many Johns around this date but one possibility is that he marries Frances Rundle in Poundstock in 1778 (Family 4 - Poundstock). Not mentioned in his father's will.
Family 2a: Gerence and Margaret Heale
Gerence 1653 is the son of Thomas and Grace in Marhamchurch. Initially he marries Sapience Hellat in Marhamchurch in 1685 and they have a son, Gerence 1687 who dies in infancy in May, 1688. Sapience dies soon after.
Subsequently Gerence marries Margaret Heale in Stratton in 1691. There is a record of Margaret born in 1673 in Stratton, daughter of George Heale. The difficulty with this account is that Gerence is 38 and Margaret 18 - but there are no records of any other Gerence.
Both Margaret and Gerence die in 1743 - grandson John 1727 was left 5s. in grandfather's will in 1743
Family 3: William and Elizabeth Balachet
There is only one candidate in the database - William 1666 from Marhamchurch, the son of Benjamin and Margaret Yemond. It's not that satisfactory - he would be 23 years older than his bride, Elizabeth Balachet - if she is one of the 2 Elizabeths of the right age born in 1689 in Stratton. Their fathers were George and William.
The marriage was 1711 in Stratton. But all the offspring only have the father's name given:
daughter Jane 1712 but dies in 1713
son John 1713
daughter Jane 1716 but dies in 1718
daughter Elizabeth 1718 - mother given as Elizabeth. Possibly marries Robert Yeo in the village in 1738
daughter Ann 1720: there are 3 Anns of similar ages - Ann 1720, Ann 1722 and Ann 1724. One marries James Somers in 1750 - very likely Ann 1722 as her grandfather refers to her by her married name in his will. That leaves Ann 1720 or Ann 1724 marrying John Drakes on 30th November, in 1754 in St Gennys.
daughter Jane 1721 - she died a pauper and unmarried in 1789. There is a group of births in Stratton where the mother is Jane but no husband is mentioned (but see John and Jane Netherton below)

son James 1740 - marries Susanna Ching in 1763
daughter Elizabeth 1744
daughter Jane 1753 - marries Roger Doidge in St Stephens, Launceston in 1779. She is described as a 'sojourner'. Roger is from Broadwoodwidger in Devon.
daughter Ann 1756 - marries John Cloke in Poundstock in 1782

daughter Mary 1722 but she dies in infancy
son William 1727 but he dies in infancy
Family 4: Thomas and Phillippa Cory
Thomas 1691 is the son of James and Elizabeth Bryant and the grandson of Thomas and Jane Payne. Thomas marries a Phillippa Cory in Marhamchurch in 1713 - we have a Phillippa Cory born in Stratton in 1686, the daughter of Charles.
Thomas dies in 1737 - possibly an innkeeper in Stoke Damerel - and Philippa dies in 1752
There is a group of Stratton births:
daughter Margarit 1715 (only father Thomas recorded) - marries John Harris in Stratton in 1749
daughter Mary 1717 (father Thomas, mother Phill)
son James 1725 (father Thomas, mother Philippa)- suggested that he marries Mary Spiring in 1769 - Family 6b.

Family 5 deleted
Family 6a: Elizabeth
There is only the mother's name, Elizabeth. It is possible that she might be Elizabeth 1718, the daughter of William and Elizabeth Balachet and this is an illegitimate birth
son James 1739 born in Stratton but dies in 1740
Family 6b: James and Mary Spiring
James and Mary Spiring marry in Stratton in 1769. Mary is born in 1751 in Stratton, the daughter of John and Elizabeth Spiring.
There are 2 possible candidates for her husband, both from Stratton:
James 1725, son of Thomas and Philippa Cory- a bit old for Mary? But the marriage record definitely says that James is from Stoke Damerel and James is an innkeeper, like his father, Thomas.
James 1740 son of John and Jane Netherton - unlikely because this would mean he was a witness to his father's will but did not receive any legacy
Whoever he is, James takes over the pub, the Tree Inn in Fore St, Stratton in 1773. In 1774 James (Innkeeper) and wife Mary Uglow are recorded as witnesses to the will of John1706 (tanner) of Stratton, but did not receive a legacy. Around 1780, he moves to Torrington, still an innkeeper, and he dies there in 1782. What happens to this young family? They certainly appear to travel around - two children (James and Elizabeth) marry in Hampshire in 1795 and 1799; two more (Ann and Jane) marry in Southwark 1810 and 1811; finally Catherine has an illegitimate child in 1813 and marries in Cornwall in 1817.
son James 1770 born in Stratton - marries Lydia or Letitia Steel at St Thomas' Cathedral in in Portsmouth in 1795. [It is clearly Letitia on the marriage record but this may be an error - 'Liddy' Steel is born in 1776 in Westbourne, Sussex and is baptised there on 8th January 1786 aged 9.] The Portsmouth wedding suggests that James may have joined the navy. James is musical - there is an old violin which inside reads "James Uglow Feb 26 1847", "born May 1770 Stratton Cornwall". They live in Gloucestershire, probably from the early 19th century as their nephew, James 1813, lives with them from the age of 4. James is a lay clerk at the cathedral and possibly a music seller - there is a reference in The Times 9th April 1836 to J. Uglow, music seller of Cheltenham. In 1835 Lydia Uglow sues Edwin Bailey for defamation at St. Mary de Lode, Gloucester! The censuses in 1841 and 1851 finds them in Gloucester. James dies in 1853 - Lydia dies the year before
daughter Elizabeth 1773 born in Stratton. In 1799, she marries John Swan (maybe Swain) in Portsea. Her husband was a mariner on the HMS Diana, [the second ship built in the Artois class and designed by Sir John Henslow. She was built by Randall & Brent of Rotherhithe, and launched on the 3rd of March 1794. Diana had a very long and active career in which most of her time was spent in patrol, convoy and blockade duties. The highlight of her career was in August 1795 when on patrol duty accompanied by her sister ship Seahorse and the frigate Unicorn, they captured the Dutch East Indiaman Cromhout, another merchant ship and her escort]. By 1851, Elizabeth is living at 18 Clarence St., Plymouth, a widow aged 78, living on an annuity.
daughter Mary 1775 born in Stratton
daughter Catherine 1777 born in Stratton - there are several possible spouses: William Hicks in 1806 in Minster; James Avery in 1808 in Week St Mary; Robert Oliver in 1817 in Tresmeer

illegitimate son James 1813 born in Plymouth Stonehouse. He marries Ann Jordan from Cheltenham - Family 1. He is clearly part of this branch of the family as his children have 'spiring' as a forename. He is sent away to be with his uncle James in Gloucester when he is 4 years old - this might tie in with Catherine marrying Robert Oliver in 1817.

daughter Ann 1779 born in Stratton. In 1810 she marries Stephen Drew at St George the Martyr, Southwark
daughter Jane 1781 born in Torrington. In 1811 she married William Batchelor at Christchurch, Southwark. He was Head Coachman to J G Booth of Crouch Hall, Hornsey. They had seven children, including James Uglow Batchelor who was an innkeeper in Deptford - in 1862 The Era (11th May) reports that James had taken over the Royal Standard pub from George Turner. After 3 years, in 1865 (21st May 1865) James transferred that licence to John Greenfield but took over the licence of the Dover Castle from E. Barber. Another son, Henry, had a grandchild, Frederick Uglow Batchelor, born1889 in Croydon.

William died in 1868 - his headstone can be seen in Hornsey cemetery. Jane died in 1869.

[information from Sarah Batchelor]
Family 7: John and Jane Netherton
John 1706 is the son of Benjamin and Mary Perry. He marries Jane Netherton. John works as a tanner - he dies in 1774 and Jane in 1764
Jane's will in 1745 mentions her husband, John, a tanner, her Netherton brothers, Jane the wife of Nicholas Rodd and kinswoman, Hannah Tremble, the daughter of Samuel Tremble, also a tanner. There is no mention of children.
There is a group of births in Stratton where the mother is Jane but no husband is mentioned. The first two fit well as the children of John and Jane. But given the later bithdates, it is possible that these are all illegitimate children of Jane 1721
son James 1740 - marries Susanna Ching in 1763
daughter Elizabeth 1744
daughter Jane 1753
daughter Ann 1756 - marries John Cloke in Poundstock in 1782
Family 8: Thomas and Grace Bryant
Thomas is born in 1663, probably in Launcells, the son of George and Margaret Clarke and the grandson of Thomas and Mary Piper. He marries Grace Bryant in 1695 in Launcells but then moves to Stratton where he is works as a tanner. He dies in January 1738.

Charlou Dolan has transcribed his will: Thomas mentions his wife, Grace and his brother George. There are also two sisters mentioned, Avis? Sleeman and Hannah 'Tremble'. These look very similar to Amy and Hannah, for whom we have dates of marriages, both in Launcells.
Family 9a: George and Mary Couch
George 1758 was born in Tremaine but raised in Week St Mary, the son of George and Elizabeth Mark. He marries Mary Elizabeth Couch in Stratton in 1782. She was born in Poughill in 1761 and died in Stratton in 1841 - there is a West Briton report of her death. George was a clockmaker in Stratton in the late 18th century. A 1797 directory gives 'Clockmaker - Longcase Painted Square Dial, 30 hour'. Here is an example owned Larrie Wright, a Canadian who lives in Alberta.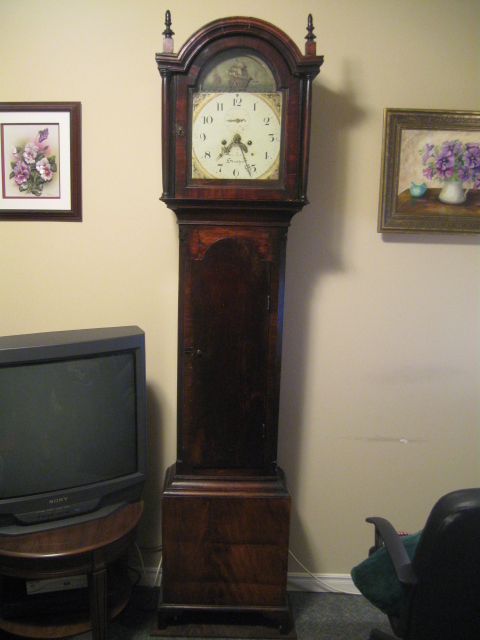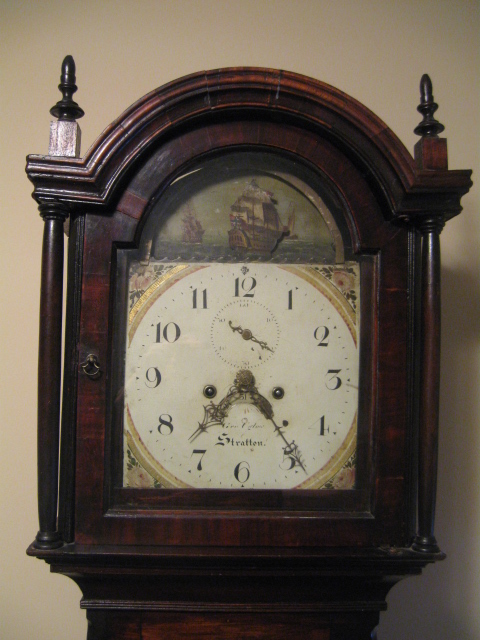 George dies and is buried in Stratton in 1825.
daughter Mary 1783 born in Stratton but dies in 1784
daughter Martha 1784 born in Stratton. Martha may die in 1784 but there is Martha Uglow who married Thomas Soudon Wood in Northam, North Devon on 21 September 1807. She was born c 1785, and is believed to be the daughter of George Uglow and Mary Couch. The reasons for believing this Martha is the daughter of George and Mary are circumstantial: firstly, there is no other Martha Uglows of that age and in that area, unaccounted for. Secondly, Thomas Soudon Wood and Martha called one daughter Mary Couch Wood. Thirdly they also had children named after Martha's sisters' married names (Pawley, Pope, Jacobs). All this strongly suggests this is the right Martha. [source: Kim Cook] In 1841, they are in Hampton Street, Plymouth Charles with daughter Martha Uglow Wood and son John. Thomas is a shoemaker. In 1851, they are in Guernsey, visiting their daughter, Prudence, who has settled on the island after marrying William White, a draper.
son George 1786 born in Stratton but dies in 1790
daughter Margaret 1788 born in Stratton. In 1811 in Plymouth Charles, she marries her first cousin by marriage, Roger Hayman Pawley, born in Launcells and son of John Pawley who had originally been married to Elizabeth 1760. Roger is a builder in Plymouth and in 1841, Margaret and Roger are living in Gibbons Street with Elizabeth. Sister Catherine is a few doors away. In 1851 and 1861, they are in 16 Chapel Street and Roger is now retired but he dies in 1866. In 1871, Margaret is a widow and living in Constantine Street, Plymouth. Margaret dies in 1874. In the photo of Margaret below, the handwriting is that of her niece, Mary Couch Pope.




daughter Mary 1790 born in Stratton. She marries Rev. William Burt. We have no record of the marriage as yet but her photo below is another kept by her niece, Mary Couch Pope and is labelled 'Aunt Burt'. (thanks to Anne Bell for this).

William was born in Torpoint (from the 1851 census) and there is an IGI record for his birth on 9 April 1792 and christening on 25 May 1801 at Antony, Cornwall, the son of William Burt and Elizabeth. Of course, this is close to Plymouth Charles where Mary's family has settled around 1810. Did they marry at this time or later? We know that William goes to Canada where he becomes a Wesleyan minister - firstly he is received on trial in 1816 in Newport, Nova Scotia. He is ordained in Canada in 1820, and served in parishes in Nova Scotia, New Brunswick and Prince Edward Island before returning to England in 1828. Was Mary in Canada with him? Probably yes - one piece of evidence is the longcase clock pictured above, made by father George. Now owned by the Wright family in Canada and who moved there in the 18th century, it is an irresistible inference that they acquired it from Mary and William when they leave Canada and return to England. If William had been in Canada alone, it is unlikely that he would have taken such an item across the Atlantic. NB it is likely to have been a wedding present from George.

The second item of evidence that suggest that Mary was in Canada and married to William was the close link with Mary's sister, Catherine as she and her husband, John Pope, were undoubtedly in Nova Scotia in 1820-1822 period.

William and Mary Burt were clearly an influence on Catherine and John Pope as the Popes named a son, William Burt Pope, who in turn became an influential Methodist preacher and writer (see entry in Dictionary of National Biography). William and Mary had no children of their own and they also brought up Mary's nephew, George Uglow Pope (see entry in Dictionary of National Biography). After his return, in 1841 we find William and Mary living in Chapel Place, Madron, Cornwall; in 1851 they are in Newcastle upon Tyne, St. Andrews and in 1861 they are living at West Parade, Wakefield, Yorkshire. They probably retire to Plymouth as they are records of WIlliam Burt dying there in 1870 and Mary Burt in 1871

.

son George 1792 born in Stratton but dies in 1793
daughter Elizabeth 1793 born in Stratton. It is possible that this is the Elizabeth who marries William Jacobs, a painter and glazier from Plymouth Charles. He was baptised a Wesleyan in 1798, like many other members of this branch. That this is the right Elizabeth is given more credence by the fact that in 1851, Elizabeth and William are living at 3 Gibbons St, Plymouth Charles and living only a few doors away at 14 Gibbons Street in 1851 were John Pope and his wife Catherine (nee Uglow), Catherine being Elizabeth's younger sister. William dies in 1855 and Elizabeth dies in Plymouth in 1859
daughter Grace 1796 born in Stratton
daughter Catherine 1797 born in Stratton. In 1818, at St Charles the Martyr, she marries John Pope 1791-1863. John was born in Padstow. Below we have photos of Catherine and her daughter, Mary Couch Pope, who was born in the West Indies in 1825 and died in Canada in 1910 (obituary in the Collingwood Bulletin 7/4/1910)




Catherine's husband and three of her sons were Wesleyan preachers. The family went to Nova Scotia to join another brother in timber - George, William were born in Nova Scotia 1820-22. Probably Catherine's sister, Mary, was also there with her husband, William Burt. In 1826 the family returned to Plymouth, where John Pope became a prosperous merchant and shipowner, and prominent in municipal affairs. They are living in Gibbons Street in 1841, 1851 and 1861 (although in different houses)

daughter Sarah 1799 born in Stratton
son Abel 1803 born in Stratton.

[source for much of the above: Kim Cook]
Family 10: Thomas and Grace Medland
This is Thomas 1810, the son of William and Mary Jenkin and grandson of John and Grace Wells. The alternative would be Thomas Turner 1812. But in the census of 1851, Thomas's widow, Grace, had a lodger, William Goodman who was very likely the son of Thomas's elder sister, Mary, who married William Goodman, and who was also living in Stratton.
Thomas married Grace Medland in Stratton in 1833. Grace was born in St Gennys in 1808 and was the daughter of Degory and Elizabeth. Thomas is a carpenter and they try their luck in New York - this American adventure is another, albeit slight, connection with the Goodman family. They arrive in New York on 16th May 1836 on board the ship 'Cosmopolitan'. with daughters Elizabeth and Jane, both christened in Stratton. They stay for at least 4 years as Ann 1838 and Thomas 1840 are both registered as born overseas in New York. On July 24th 1840, Thomas dies in New York. Grace and the children have moved back by 1841.
In 1841, Grace was living in Gilbert Square, Stratton with Betsy, Ann and Thomas. Edward and Elizabeth Pethick, paupers, were also in the house.
In 1851, Grace was living at Lynstone, Budehaven with Ann (rather incongruously transcribed as 72 years old rather than 12!), Mary Grace and Louisa. Grace was a widow. In 1851, Grace was pregnant with William and in a relationship with Thomas's nephew, William Goodman, who was lodging with her. We know this as Grace then moved to Hope Township, Ontario - we find her there in 1861, married to William Goodman and with daughter, Louisa Goodman and son, William Goodman. Grace died in 1875 as there is a record of the death of Mrs William Goodman, aged 68, in Port Hope on 14th October
daughter Betsy 1833 born in Stratton. In 1841 she was living with her mother. In 1841 she was 7 years old but there is an IGI record for Elizabeth christened in 1836. I assume this is a late christening for Betsy. She does not appear on the 1851 census at Lynstone with her mother but was working (as Elizabeth) at Howard Mill, Stratton as a servant for John Earl, the miller. She's the right age and Howard is a short walk from Lynstone. She married in Bude in 1856 - to Samuel Hoare who was born in 1833 in Whitestone. In 1861 and 1871, they were living in Budehaven and then Stratton and Samuel was a farm labourer. The children were all born in that area but in the 1870s the family moved to Exeter. In the 1881 census, she was Elizabeth Hoar(e) and they lived at 48 Howell Road, Exeter St Davids - in 1891 and 1901, they are living in the same street. Sam was a domestic coachman and the censuses show them to have had at least seven children - Thomas, John, William, Melinda, Laura, Samuel and Albert.


daughter Jane 1836 born in Stratton but did not appear in the 1841 census


daughter Ann 1838 born in New York. She was living with her mother in 1841 and 1851. By 1861, Ann had moved to Canada, along with brother Thomas. We find her living in Port Hope, where she married Thomas Hills (1841-1907) - they married on 20th December 1862, a week before brother Thomas's wedding. Thomas Hills was a constable - they appeared on the 1871 census in Port Hope, already with 4 children. The couple were still in Port Hope in 1891 - Thomas was now a labourer


son Thomas 1840 born in New York. He was living with his mother and 1 year old in 1841. There is an IGI record for Thomas christened in 1845. I assume this is a late christening. In 1851 he was at Upton, Budehaven, working as a farm labour (at 11 years old) for William Marshall. Upton isagain just a short walk from Lynstone.

Thomas emigrated to Ontario in the 1850s and ends up in Port Hope, Durham, Ontario where he married Annie Evans, also born in England, probably in 1832 - her parents were John and Elizabeth Evans. In 1851, there was an Evans family, living in Shoreditch in London with the right parents names and the right ages. John Evans is a tailor. Interestingly, by 1861, when Ann was living in Port Hope, she was working as a tailoress. Thomas and Ann married on 27th December 1862, a week after sister Ann's wedding. Thomas was a sailor, 2nd officer on the schooner 'Goldwater. He drowned on 9th December 1886. They had three children, Mary 1864, Thomas 1866, Charles Malcolm 1868, all born in Ontario. Charles fought in the Boer war and then joined the RCMP. They were Wesleyan Methodists. Annie lived on in Port Hope and was present in the censuses - she died in 1915. (Thanks to Terry Ohl for the weddings)


daughter Mary Grace 1846 - born in Lynstone and she was christened in Stratton in 1851 but the census in 1851 has her at 5 years old. Another late christening - she was probably the daughter of William Goodman


daughter Fanny 1849 - died in infancy - she was probably the daughter of William Goodman


daughter Louisa 1851 born in Lynstone and was on the 1851 census - she was probably the daughter of William Goodman as she was with her mother and William in Hope Township in Ontario in 1861 and on the census as Louisa Goodman


son William 1852 born in Bude - he is probably the son of William Goodman as he was with his mother and William in Hope Township in Ontario in 1861 and on the census as William Goodman
Elizabeth marries Robert Webb in 1694 Stratton - this may be Elizabeth 1676 from Marhamchurch but for the problems about Elizabeths at this time, see Marhamchurch Family 1dii
Benjamin marries Margaret Luggar in Stratton in 1707
Thomas marries Marjory Bryant in Stratton in 1721
Simon 1750 from Marhamchurch marries Elizabeth Oliver in Stratton in 1795 - see Family 4fi in Marhamchurch
Frances 1813 from Marhamchurch marries William Vuller (born 1797 in Stratton) in 1834 in Stratton
Alice 1808 from Marhamchurch marries William Short in Stratton in 1835
Margery Louise, born in 1875 in Stratton
- back to the Uglow homepage