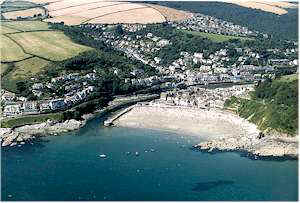 Looe's name means 'pool or inlet' is on the south coast of Cornwall. There are actually two towns, East and West Looe, divided by the estuary of the Looe River and connected by a bridge of nine arches built in 1853. In the 19th century the Looe Union Canal was used to export agricultural produce and granite from Looe but is now disused.

Population

Statistics:
222 acres of land
Maps

Looe is on the south coast
1. The whole of Cornwall
2. Here is a map to get you to Looe
Family 1: Edgar Bellamy and Annie Butters
Edgar Bellamy 1864 was the son of William 1830 and Mary Ann Bellamy and the grandson of Abel and Mary Ridgman.
In 1871, he was with his mother in St Thomas' Launceston. In 1881 he was working for a ropemaker, Charles Randall at Market St, St Mary Magdalene, Launceston. By 1891, he was at Cannon Hill, Liskeard, working as a painter.
He married Annie E. Butters. She was born in East Looe in 1867, daughter of Joseph Butters, a fisherman, and Annie Lightfoot. In 1881 and in 1891, she was living with her parents and brothers in Fore St., East Looe - this was not that far from Edgar who in 1891 was in Liskeard. They married in Stonehouse in 1892. By 1901, she was married with four children and was living in Chapel St. There is no record of Edgar on the 1901 census.
In 1906, Edgar arrived on Ellis Island in New York, having travelled from Liverpool on the Umbria. Describing himself as a decorator, he was with his son Harold en route to visit his brother Harold, who was living in Niagara Falls, New York.
In 1911, Annie was living in Fore St., East Looe with her father, Joseph Butters, a retired fisherman, and her brother, Benjamin Butters. With them were Beatrice, Joseph and Mabel. There was no sign of Edgar..
son Harold Alfred 1893, born in Looe. He travelled with his father to New York in 1906 to see his uncle Harold who lived in Niagara Falls, New York. Harold was obviously smitten - he became a naturalised US citizen in 1920. We find him travelling on a round trip to England, landing here on 16th June 1926 with his 10 year old daughter, Beatrice - they were staying at Fore St, East Looe. Then back to New York in August 1926 on the same ship, SS Mauretania - they lived at 2036 La Salle Avenue, Niagara Falls.


daughter Beatrice Annie 1895, born in Looe. In 1911, she was living in Fore St., East Looe with her grandfather, uncle, mother and siblings. She was a dressmaker. In 1919 she married Charles Bellamy in Liskeard - presumably a cousin. They probably moved north - their children were Winifred J 1922 and Charles E U 1928, both of whom were born in Ecclesall, near Sheffield.


son Joseph Ernest 1898, born in Looe. In 1911, he was living in Fore St., East Looe with his grandfather, uncle, mother and siblings. He was still at school. In 1922 he married Ethel Nicholas in Liskeard. A fisherman, he was crewman on Shamrock V competing for the America's Cup 1929. He returned from New York to Plymouth, 3rd class, on 6th October 1930 on the SS Caronia. Seven years later, he was crew and second cook on Endeavour I, during its warming up races with Endeavour II as the latter prepared for another assault on the America's Cup. Afterwards, Endeavour I was being towed back to England by the Motor yacht, Viva II, when the tow rope was severed during a hurricane on the night of 13th September 1937 at about 11 o'clock at night in the Atlantic, 200 miles off Nantucket on the east coast of America, with wind speeds of 105 mph. All the crew were feared lost and nothing was heard or seen of Endeavour after the tow broke, until she was sighted by the tanker Cheyenne at the approaches to the English Channel 20 days later.The Endeavour had raised sail and crossed the Atlantic under jury rig. For an emotional account of their arrival in Portsmouth and an extensive interview about their ordeal with Joseph ("jolly Joe", Ethel called him), see Nottingham Evening Post 1st October 1937



son Joseph G 1922 born in Liskeard - in 1952 he married Ida W. Edmondson



son Ian M 1954 born in Preston - married Christine Walsh in Blackpool in 1978. The family live in Bristol



Gareth William 1986 born in St Albans but carries on the sailing tradition


daughter Bryony Elizabeth 1989 born in St Albans



son Nicholas Godfrey 1960 born in Liskeard. He marrried Janis Unwin, living in Essex for a period before moving back to Cornwall. They are now divorced.



daughter Victoria Gemma 1983 -she was a student at Portsmouth University


daughter Jocelyn Louise 1986 born in Essex. She married Ashley Griffin



son Patrick Morgan Griffin


daughter Beatrice Griffin



son Adam Nicholas 1994 born in Essex. In 2019, he married Sarah-Jayne Woods. They live in Plymouth



daughter Amelia N 1938 born in Liskeard - in 1958 she marries Mr Williams



daughter Mabel 1900, born in Looe. In 1911, she is living in Fore St., East Looe with her grandfather, uncle, mother and siblings. She is still at school. In 1924 she marries Samuel Adams in Liskeard
- back to the Uglow homepage