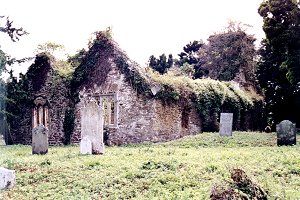 Mether churchyard

A sparsely populated parish bordering the Tresillian River and sandwiched between the parishes of Lamorran and St Clements. Name means 'place claiming relics' These relics may have belonged to St Coan, patron saint of the local church.

Population

Statistics: 1804 acres of land

Maps

Merther is east of Truro

1. The whole of Cornwall
2. Here is a wonderful map to get you to Merther - you can change the scale as well as get the local weather and cinema listings!

Family 1a: William and Wilmot Wo/innacott

William 1841 is born in Warbstow, the son of Nicholas and Grace Uglow, the grandson of William and Jane Bray from Jacobstow on his mother's side and of William and Ann Chapman on his father's side. At the time of the 1851 census, he is living, aged 10, in Warbstow.

In Jacobstow in 1870, he marries Wilmot Wonnacott, born 1842 in Kilkhampton. Her father was Samuel and her mother Mary Cory and they were married in 1835.

William may have worked as a miller at Canworthy Water, following his father but in 1871, he and Wilmet are in Jacobstow with little Ann, just born and as yet unnamed. William is working as a farm labourer. They move south to Merther and Truro and in 1881he is an agricultural labourer, living at Eglos Merther Cottage and probably working for William James, farming 295 acres who lives next door.

William dies quite young in 1890 - in 1891, his widow Wilmet is living at Merther Lane, St Michael Penkevil with sons Charles and Nicholas. In 1901, she is living with son Frederick at Tregonian, St Michael Penkevil. She dies in 1910 in Truro.
daughter Ann 1871 born in Jacobstow - dies in infancy


son Charles 1873 born in Merther. He marries and farms in Jacobstow - Family 10


son Nicholas 1874 born in Merther but he died in 1875


son Frederick 1877 born in Merther - see Family 1 St Michael Caerhays


son Ernest John 1880 born in Merther. In the 1891 census he is with Uncle Nicholas at Kents, the farm his brother Charles takes over. In 1901 he is working as a railway porter and lodging in St Austell with Blunet Tallack, the station master. In 1912, he married Florence Aline Rosevear, who came from Par - his granddaughter, Mary Sisson, relates the family story that Florence's dream was to get to California - she was engaged to someone else but Ernest was already living in Canada so she married him instead.

They emigrated to Revelstoke, British Columbia the day after the marriage. They later moved to Winnipeg, where he worked for Canadian Pacific. After a spell in Utah, the family ends in California - Emigrant Group 6 - where Ernest works as a carpenter.

There are several trips home - Florence arrives, travelling by herself, in May 1937 and returns in August 1937 on the SS American Shipper from London to New York and thence to California. Ernest and Florence are on the Queen Elizabeth, arriving in August 1951 and sailing from Southampton to New York in October 1951 and then on the Queen Mary, arriving in August and sailing from Southampton to New York in November 1955. Their UK address is always given as 39 Dolphion Rd, Slough. A month after returning from this last trip, Ernest dies in Los Angeles in 1955.



Sadie Ernestine (1912-2004) unmarried and died in Puyallup, Washington State


Florence Wilmot (1915-2002 ) born in Winnipeg, Canada and died in Puyallup, Washington State. Florence married Everett Ross Wolford in 1942 and they had three children - Douglas Ross, Ann Louise and Mary Elizabeth (thanks to Mary for some of the information here)
- back to the Uglow homepage