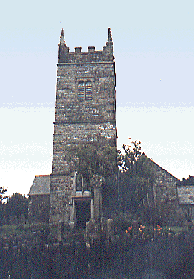 The name is Cornish for 'Church of Keri' - pictured above. This saint is believed to be female and one of the 24 children of the Welsh king Broccan. The parish is about 5 miles south-west of Launceston and consists of the village of Egloskerry and many outlying hamlets and farms. Penheale Manor dates back to the Domesday Book, but the architecture of the house today is mainly 17th and 20th century. The estate still farms a considerable area of land.
Population
Statistics: 3253 acres of land, 9 acres water.
Maps
Egloskerry is a little north west of Launceston
1. The whole of Cornwall
2. Here is a map to get you to Egloskerry
Family 1 and 1b deleted
Family 2: William and Jane Kittow
The 'Cory' connection in the children's names suggests that this is William 1794 from Week St Mary, son of John and Margaret Cory and the grandson of George and Elizabeth Mark.
Jane Kittow is born in 1798, in Tresmeer, quite close to Week St Mary. She was the daughter of John Kittow (1765-1851) and Ann, nee Taylor, (1769-1828). John and Ann were married in Tresmere on 8 January 1790. John and Ann's grave is in the churchyard at Tresmere (thanks to Peter 1945 for this).
Jane and William marry in 1817 in Warbstow. Mary Uglow, wife of Abel 1791, who is William's sister-in-law, witnessed the ceremony. In the early stages, the family seem settled in Egloskerry, west of Launceston and close to Tresmeer.
In the census in 1841, William is the miller at Badharlick, Egloskerry with five children - Margaret Ann is missing for some reason.
But by the censuses in 1851 and 1861, the family are resident in Lifton where William is a farmer of 85 acres employing 3 men at Lower Carley Farm close to Lifton. In 1851, his eldest son, John, is working on the farm but he dies in 1871 and the management of the farm is taken on by the youngest son, Wymond Cory.
William is a Wesleyan methodist. He dies in Lifton in 1872 (MI in Lifton).

son Edwin Cory 1819 born in Forrabury. He dies in1833 and is buried in Egloskerry
son John Kittow 1822 born in Tintagel. In the 1841 census, at home with the parents. In the 1851 census he is 28 and employed on his father's Carley Farm.

We have some letters from his aunt,

Jane's sister Mary, who married Robert Henry Weekes to John Kittow in 1871

. John Kittow

died the following yea

r at Lifton (MI) and

Wymond Cory Uglow took over the farm (from Peter 1945) .

daughter Mary Jane 1824 born in Tintagel. In the 1841 census, at home with the parents. She's living in Lifton in 1851. At the age of 42, she marries John Fletcher of Stone Farm, Lifton in 1866. He has 3 sons from an earlier marriage. In 1901, she is in Launceston, living off her own means.
son William Taylor 1828 christened in St Mary Magdalene Wesleyan in Launceston and buried in Highgate in 1895. In the 1841 census, at home with the parents. In 1851 William Taylor was a servant in Highweek, Lifton. In 1853 he married Mary Hockin of Polson Bridge, Lifton and by 1860 he moves to London - Family 3

Why 'Taylor' ? - note that the first son is Edwin Cory (after William's mother), the second son is John Kittow (after Jane's father's family) and the third son is William Taylor (after Jane's mother's family). Not only is William given the name, his brother Wymond Cory, names a nephew after him and then Wymond's son, Wymond Richard, names a great nephew after him. You feel that this first William Taylor was probably a charismatic person.

son Wymond Cory 1831 born in Egloskerry. In the 1841 census, at home with the parents. He is living in Lifton in 1851 and 1881. A farmer of 160 acres at Upper & Lower Carley Farm, Lifton, in 1867 he marries Susanna Emmeline Cole Mason - Family 3
daughter Margaret Ann 1835 born in Egloskerry. She is living in Lifton with her parents in 1851. She marries a farmer, Richard Hamley, born in Lifton in 1835. They are living at Riscombe, Lifton in 1881 with four sons and three daughters. In 1901, Margaret and Richard are living at Tamerton Foliot with various children and grandchildren.

[A small footnote: Elizabeth Jane Uglow Hamley was registered in 1859 2nd q at Launceston. The 1861 census shows that she is the illegitimate daughter of Elizabeth Hamley, born 1837/8, whose parents farm Fernhill Farm (90 acres) at Broadwood Widger. Her father presumably is a Uglow. Her mother marries a Launceston farmer in 1870. Elizabeth Jane herself has a baby girl in 1881, Annie Letitia Walker, born on Race Hill, Launceston and a son, Charles Walker, born 1884. The father is Edwin Walker of the 16th Lancers. Elizabeth Jane eventually marries a Royal Marine, Theophilus Jones, 3rd quarter 1888 in Plympton St Mary. She dies in 1915 at the Royal Marine Barracks in East Stonehouse of a cerebral haemorrhage. But who was her father? There are obvious suspects are the brothers of Margaret Ann. Elizabeth Hamley 1837 was probably a relative of Richard Hamley and I'd bet real money that it is one of Margaret's brothers who is the father. DNA research on a descendant of Elizabeth Jane strongly suggests that this is correct - although which remains a mystery (THANKS TO ELEANOR MILES FOR THIS)]


daughter Matilda Jane 1836 - Matilda is a bit of an enigma as I haven't seen a birth record and she doesn't appear on the 1841 census with her parents. But, when she gets married, the certificate mentions 'William Uglow, miller' as her father. Also one witness is Mary Frances Treleaven, daughter of Amelia, whose father,Abel, is William's brother. And finally, in the 1851 census, there is a mysterious Matilda J. Hoskin, living with (and the 'niece' of) Matilda Ridgman (another daughter of Abel) and her husband, Robert Tarring in Holbeton. Matilda Hoskin is the right age and was born in Plymouth St Andrews. (Could Matilda Ridgman be the mother of Matilda Jane? This would have been quite a scandal - Matilda is not mentioned in her father, Abel's, will.)

In 1857, Matilda is living at 1 Higher St, Plymouth - in that year, she marries Frederick John Ford who is a sergeant in the Royal Engineers, the son of Richard Ford, a parish clerk. This is probably the Richard born 1828 who is schoolmaster in Holbeton in 1851 which might explain how they meet. I again can't find the couple on the 1861 census - I suspect that they might be overseas with the regiment in North America. They are in Gillingham, Kent (near to the Chatham dockyard) in 1864 - their children were Helen Matilda born 1864 who marries Frank Horwill, a dockyard carpenter; Frederick born 1866 who becomes a sergeant in the Royal Engineers and Herbert born1868.

In 1868, Matilda dies in Stoke Damerel - Frederick Ford remarries, to Sarah Crocker in 1869 and later to Diana Francis in 1894.


son Edwin Cory 1838 born in Egloskerry. In the 1841 census, at home with the parents. He moves to London - in 1861, he is found living at 11 Mathias Place, Hornsey and working as a journeyman baker with his first cousin, William 1830. Both of them are probably working for Edwin's brother, William Taylor (above). Edwin marries Louisa Luff in St Leonards, Shoreditch, London in 1867.

On 13th November 1869, Edwin is passing outside the Holborn Casino when he had an altercation with Police Sergeant Thomas Hill - Hill was later charged with assault and Edwin testified at his trial (The Times 17th November 1869). Edwin, a confectioner and baker, was with his brother - either Wymond or William Taylor

Edwin and Louisa return to Devon and he dies in 1876 in Tavistock RD. After his death, Louisa joins her brother in the USA.
Family 3: Wymond Cory and Susanna Emmeline Cole Mason
Wymond Cory 1831 was born in Egloskerry and is the son of William and Jane Kittow and the grandson of John and Margaret Cory. He is a substantial farmer of 160 acres at Upper & Lower Carley Farm, Lifton and appears to have built on the farming business of his father. He is living in Lifton in 1851 and 1881.
In 1867 he marries Susanna Emmeline Cole Mason in Dunterton, a hamlet on the Launceston to Tavistock road. The census in 1881 suggests she was born in 1840 in Dunterton. Perhaps Susanna and Wymond try living in London and helping in the Red Lion St bakery with his brother, William Taylor, or his cousin, Henry French Ridgman Cory- the evidence for this is that their first children are born in Holborn?
They return to Devon soon after 1872 - his father William dies in 1872 a year after Wymond's elder brother John in 1871. His other older brother, William Taylor, is set in London and Wymond inherits the farm? Wymond dies in 1900 in Chesunt, perhaps visiting his nephew William? He is clearly close to his brother's family, as Wymond names his second son William Taylor.
Susanna lives until 1910 - she dies in Hampstead. The 1901 census finds her visiting 47 Albury Grove Road, Cheshunt where daughter Mary is working.
son Wymond Richard 1869 born in Holborn. In 1900 he marries Ellen Neale in Launceston but lives mainly in Tavistock - Family 1
daughter Mary Jane 1872 born in Holborn. She's living in Lifton with her parents in 1881 but she moves to London - in the Daily News 17th September 1900, she has placed an advert, as a 'farmer's daughter' looking for a position as an assistant housekeeper. She is living at Higham Hill, Walthamstow. Clearly the advert works as the 1901 census finds her working as a housekeeper for the Piggot family at 47 Albury Grove Road, Cheshunt. Is it coincidence that her cousin, William Ernest, is living wwith his family in Cheshunt. Anyway, her widowed mother is visiting Mary at the time of the 1901 census. At some later point Mary lives with sister Helen and brother William at Victoria Rd, Kilburn. She dies in 1955 in Hendon RD
daughter Helen Mason 1874 born in Lifton. She's at home at the 1881 census but can't be found in 1901. At some point she lives with sister Mary and brother William at Victoria Rd Kilburn; after Mary's death she moves to Morwellham, a village south of Tavistock. She dies in 1961 in Tavistock.
Emmeline 1877 born in Lifton but dies soon after birth
son William Taylor 1879 born in Lifton.

He

had no interest in farming and wanted to work on the railways but ended up as a baker working with William Ernest, the son of his cousin and namesake, William Taylor

1828.

He moves to London and in 1903 marries Emily Watson - Family 8 in London.
son John Kittow 1883 born in Lifton. He dies the same year.
Miscellaneous
Mary 1774, daughter of William and Elizabeth Hobbs of Warbstow - Family 1bi - marries John Worth in the village in 1799 - he is the son of Richard Worth and Elizabeth Frayne, born in 1773
Richard 1791, son of William and Frances Jolliffe from Jacobstow - Family 5a - marries Rachel Pearce in the village in 1832
- back to the Uglow homepage