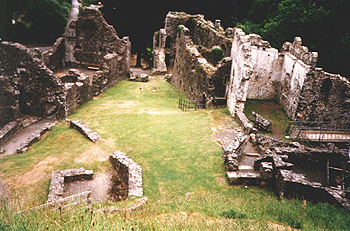 Okehampton Castle
"OKEHAMPTON, or Oakhampton, is a small but busy market town, and ancient borough, which gives name to a large union, deanery, and polling and county court districts; and is picturesquely sited near the northern extremity of Dartmoor Forest, in the valley of the river Okement, . . . The town is on the high road from Falmouth to Exeter, 22 miles W. by N. of the latter . . . . Its large parish had 1430 inhabitants in 1801, 2055 in 1831, and 2194 in 1841, and extends over 9552 acres of land, including the scattered hamlets of Chicecott, Brightley, Lower Fatherford, Meldon, and KINGBEAR, the latter of which includes Southcott, Maddaford, Nethercott, and Croft farms &c., and comprises about 1460 acres, all in Black Torrington Hundred. The parish extends several miles around the town, and includes several large commons and moorland tracts, containing slate, limestone, and granite. . . . The parish now belongs to A.B. Savile, J.M. Woollcombe, H. Hawkes, J.C. Luxmoore, and Jas. Crotch, Esqrs.; the Rev. C.T.C. Luxmoore, Sir R.R. Vyvyan, and many smaller owners. . . . The Parish Church (All Saints,) stands on a bold eminence, nearly half a mile west of the town, and was destroyed by fire, except the tower, on the 13th Feb., 1842. . . . The Rev. J. Downall, M.A. is the incumbent . . . . "
[From White's Devonshire Directory (1850)]
A market town and parish in Black Torrington Hundred, the Archdeaconry of Totnes and the Diocese of Exeter. More about modern Okehampton.
Here is a larger scale map of Devon and a map to get you to Okehampton
And here's a late 18th/early 19th century map of the area.
Family 1: Thomas and Rebacca Arscott and Mary Maunder
Thomas 1643 is the son of George Uglower - working on the theory (but not much else!) that all Uglows come from Marhamchurch, this could be George 1603 or George 1612
Thomas was church warden 1675 and mayor of Okehampton in 1692 and 1700. He marries Rebecca Arscott in 1669 and on the death of his son Samuel and Rebecca, Thomas remarries Mary Maunder in 1678
First marriage
Second marriage
son John 1679 - 2 possible marriages for John - first in 1704 to Joan Andrew in Alwington - Family 1 - and secondly to Sarah Furbes in Exeter - Family 2
son Samuel 1680
son Thomas 1693
daughter Susanna 1693
Anne (another daughter of Thomas?) marries William Burd in South Tawton (just to the east of Okehampton) in 1706.
- back to the Uglow homepage